Om Christina Ekros-Buckley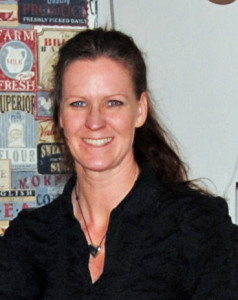 Becoming a chocolatier was not an obvious career move for Christina Ekros-Buckley.
She grew up in Småland and is educated in electro engineering.
Christina has been part of the Swedish national team in rowing taking a bronze medal in a world championship.
The rowing took her to Brisbane, Australia where she met her husband and lived for 6 years.
Christina being driven, creative and solution oriented noticed that no one sold flavored tea where she lived.
As the entrepreneur she is, she started a business with tea while at the same time studying business and raising her children.
Back in Småland Christina wanted to start some business on her own that she could combine with taking care of her children.
Nobody made chocolate in Gränna and the idea grew. With no experience she started small scale and used IKEA mixing bowls as the first equipment. Christina practiced in Stockholm and learned the art of making fine chocolate from scratch.
In 2012 the famous Swedish chef, Leif Mannerström, gave her credentials as to have
"Sweden's best chocolate"